It's #HashtagHumpDay! Thanks for joining
Laura
and I for our 6th week of our baby link-up! If you're missing out this week, no sweat, just join us next week and every Wednesday after that!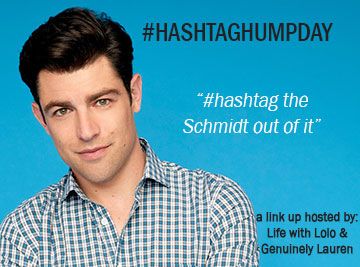 Let's call these rules the 'skinny' because rules just sounds way to formal and this is anything but:
Talk about whatever you like! Just as long as you ad a #hashtag at the end of it because it's #fun
Link your post up here or with my gal pal Laura so we can read all about your life and thoughts #takenoprisoners
Comment on at least one other post and make friends because that's the point of linkup right? #letsbefriends
Share it on social media and add #hashtaghumpday #allofthesocialmedia
Have fun! #hashtageverything
I hope everyone had a fantastic holiday! I was so excited to be able to see my family for the first time since I've moved down to Florida. And now my family wants be to come visit like every other month and I'm just like #sorrybutno #loveyouguys
For the last two days (and probably today too) we've been going to look at trucks allll over the okaloosa area. At least we didn't have to drive 2 and a half hours away like we did
last time
. There really is nothing more stressful than purchasing your first vehicle #idontwanttogrowup #wheresmymom
I have to give props to the car salesman that we went to yesterday because I probably would've bought the worst vehicle in the lot. Like he was one of those annoying/haggling guys who you'll buy whatever they're selling just to get them to stop talking #illtakeoneofeverything
And now with the possibility of a car payment and insurance coming into our finances makes this whole budgeting/being an adult thing makes me really want to crawl into a hole and hope that it fixes the problem on it's own #cuethetinyviolin
So when I was home last week, Blake told me we got a note (everyone in the building did too) from our landlord about our ongoing lack of internet problem. Basically the router crashed because someone was playing games; and I told them two weeks ago to get a new one! Not the point. But they tried to blame it on us and said that "It's a community wifi and only meant for light browsing"... I CAN'T EVEN DO THE LIGHT BROWSING!!! #excusemytemper
So now we're probably getting our own WiFi to watch all of the Netflix and blog all of my hearts desires. And that way I can deal with Cox personally. #givemewifiorgivemedeath
Hope you'll all join us! If not, have a great new year!