Hello friends!
It's #HashtagHumpDay! Thanks for joining
Laura
and I for our 2nd week of our new baby link-up! If you're missing out this week, no sweat, just join us next week and every Wednesday after that!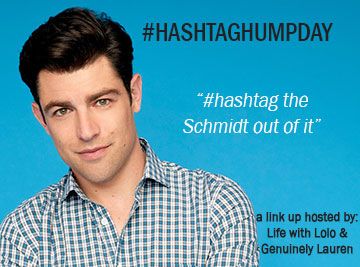 Let's call these rules the 'skinny' because rules just sounds way to formal and this is anything but:
Talk about whatever you like! Just as long as you ad a #hashtag at the end of it because it's #fun
Link your post up here or with my gal pal Laura so we can read all about your life and thoughts #takenoprisoners
Comment on at least one other post and make friends because that's the point of linkup right? #letsbefriends
Share it on social media and add #hashtaghumpday #allofthesocialmedia
Have fun! #hashtageverything
I hit 14,000 pageviews on Saturday! I know it doesn't seem like much, but since I started back up blogging again in June - it was a pretty great achievement for me! I definitely screamed a little and did a slight dance by myself #noragrets #imgettingfamous #justkidding
Link up below and join in on the #fun!