It's #HashtagHumpDay! Thanks for joining
Laura
and I for our 3rd week of our new baby link-up! If you're missing out this week, no sweat, just join us next week and every Wednesday after that!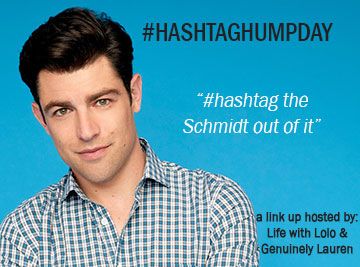 Let's call these rules the 'skinny' because rules just sounds way to formal and this is anything but:
Talk about whatever you like! Just as long as you ad a #hashtag at the end of it because it's #fun
Link your post up here or with my gal pal Laura so we can read all about your life and thoughts #takenoprisoners
Comment on at least one other post and make friends because that's the point of linkup right? #letsbefriends
Share it on social media and add #hashtaghumpday #allofthesocialmedia
Have fun! #hashtageverything
First off, Laura is in Vegas this week and
still
joining us for our favorite day/link-up of the week (of course, we're kinda bias)! #hollaatyogurl #JTlovesyou
So Blake's birthday is a few days before Christmas and I asked him if I could make him treats to bring to work for his birthday and he just stared at me and said "No... We're not in Kindergarden anymore" #youshutyourmouth #everyonelovesbirthdaytreats
Every time I have to take my car into the shop, even if it's just for an oil change, I can feel my wallet crying and begging me to make it stop. Especially when the mechanics tell me that there are
additional
issues with my baby Ford Focus, like yesterday. #byebyemoney #illmissyou
Along with yesterday, does anyone have a cute bonding experience with your friends/significant other/spouse that you'll only watch certain Netflix shows together?? Anyone? Well, Blake and I watch Sons of Anarchy and I was at work last night when he said "Don't be mad, but I watched a few episodes of SOA... Catch up tomorrow." #iseehowitis #HOWRUDE
I even made him cookies and left him a super sweet note because he was having a bad day #illtakemycookiesback #theseareminenow
Back to work. It finally happened that I worked an event where I actually knew someone there! One of Blake's friends had a graduation ceremony/banquet and when I saw him I went like this
And later when I served him his dinner he was like this #awkward #RUDE
On a random and ending note, I have finally found a "one-size fits all" pair of leggings! This is huge because I feel that I am apart of that small 1% that leggings do not in fact fit for one-size. #onesidedoesfitall #iamtheonepercent #doalittledance
Join in on our link-up! See! Hashtags are lots of fun!