It's #HashtagHumpDay! Thanks for joining
Laura
and I for our 5th week of our baby link-up! If you're missing out this week, no sweat, just join us next week and every Wednesday after that!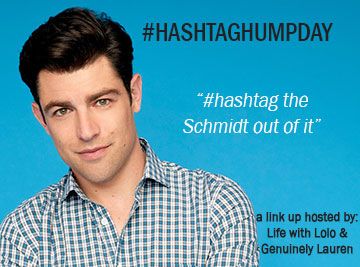 Let's call these rules the 'skinny' because rules just sounds way to formal and this is anything but:
Talk about whatever you like! Just as long as you ad a #hashtag at the end of it because it's #fun
Link your post up here or with my gal pal Laura so we can read all about your life and thoughts #takenoprisoners
Comment on at least one other post and make friends because that's the point of linkup right? #letsbefriends
Share it on social media and add #hashtaghumpday #allofthesocialmedia
Have fun! #hashtageverything
This is honestly going to be short and sweet since I'm at home for the holidays and I feel like I have no fresh material for you all with a #hashtag Can I get a #bloggerfail??
I have definitely felt crafted out since I got in on Saturday. Like, I haven't stopped crafting at all. I feel like the Hunchback of Notre Dame because I've been hunched over painting almost every night
Hope you all have a fantastic Christmas! #merrychristmasyafilthyanimal #happychristmasharry
And I'll end it with the best #giftforeveryholiday (even though it's not the original version)