Hello there and Happy Monday!

Hope everyone had a great four day weekend! Or I guess a great recovery period from all of the food that was consumed in one days time and the multitude of leftovers that's going to consume our fridges for weeks to come. I know that I have half of a tray of cheesy potatoes sitting in mine.
As always, Thanksgiving involves a lot of food and spending time with our new friends since we couldn't be with our own families. I admit I did have quite the stressful morning with making the cheesy potatoes and making sure everything that we needed for the day was packed up. And of course had to make two runs to Walmart. It's not a Thanksgiving unless you have to run to Walmart to pick up that one thing you forgot. I'm convinced.
Our food turned out to be surprisingly good! Some of it ended up being a tad cold when we started eating. But hey, at least we didn't have to order out for pizzas as our intended back up. So we call it a success for all of our first adventure cooking a massive feast.

I was in charge of a lot of dishes. Actually I volunteered for more than half so I only have myself to blame for being stressed about it and cooking for 6 hours the day before.
My Memo's Chocolate Pudding Pie. It didn't harden up as much as it should have but it was still very creamy and delicious.
Taco dip is a staple at all of my family gatherings. So I had to make some to share with everyone. Even ended up going out for supplies to make a second batch!

I also had to make deviled eggs (which are literally the devil to make), two batches of brownies, and my families chessy potatoes.
Yes, that's the boys trying to figure out how to deep fry a turkey. Ended up turning out pretty good!
Our first Thanksgiving together :)
We clearly love our cheese, potatoes, and carbs. I regret nothing.
Friday was typical sleep through our overeating food comas. I did get a run in in the morning so I felt pretty successful! Our internet was out all day so we couldn't have our Sons of Anarchy marathon that we intended on doing. But we turned it into a movie night with 22 Jump Street, America: Imagine the World Without Her, and The Purge.

Which I thought that The Purge was going to be extremely terrifying and I don't do scary movies; but it was more just a strange concept thriller. Like, I give props to the writers of this movie for thinking up "oh, let's create a new government where you get to commit murder one night a year to release all of the rage you've been harboring." Makes sense. And then it turns out that the actual 'new founding fathers' are the one that participates the most in the killing!! But, I'd have to say if I was wealthy, I would just go to one of those Purge Functions just so I could be safe and stay alive, not to kill anyone. That's just my thoughts though.
Saturday was another lazy day. So lazy that I didn't even want to go out into the public eye and do my normal routine of grocery shopping and my scheduled long run. Saturday was called for naps, working Internet
(finally!!)
, and a little perusing around Etsy and GroopDealz for Small-Business Saturdays. I did make one Christmas present purchase and of course couldn't help getting something for myself #sorrynotsorry. We watched Alabama vs. Auburn game and saw how Alabama almost lost it and ended up being victorious!
I also planned out how I'm going to be creating my Christmas wreath and if any of you follow me on
Pinterest
(which you should :)), you would've seen the influx of
wreaths
I pinned. I regret nothing.
Sunday was the day I decided to actually be productive. Not so much to get a run in but I did go grocery shopping and hit up A.C. Moore to buy my supplies for my wreath. It didn't end up going the way I planned but everything I did get is going to turn out to be a really pretty, and original, Christmas wreath. Looking forward to fixing it up tomorrow! I also put up the rest of my tiny touches of Christmas decorations around the apartment. And this candle going is extremely intoxicating.
And don't forget anyone who missed us last week for mine and
Laura
's new link-up #HashtagHumpDay, you should join us this week! Join us on Wednesday for all of the hashtag fun!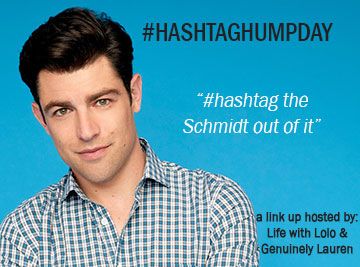 Happy Monday!