It's #HashtagHumpDay! Thanks for joining
Laura
and I for our 7th week of our link-up! If you're missing out this week, no sweat, just join us next week and every Wednesday after that!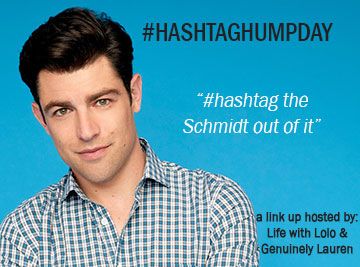 Let's call these rules the 'skinny' because rules just sounds way to formal and this is anything but:
Talk about whatever you like! Just as long as you ad a #hashtag at the end of it because it's #fun
Link your post up here or with my gal pal Laura so we can read all about your life and thoughts #takenoprisoners
Comment on at least one other post and make friends because that's the point of linkup right? #letsbefriends
Share it on social media and add #hashtaghumpday #allofthesocialmedia
Have fun! #hashtageverything
I'm going to talk about my stats here just for a quick second. Stay with me here. I promise there is a "WTeff" moment in here somewhere. Mostly because I'm still like "I don't get it" about this specific statistic. I really just need to share this with someone (read: all of you).
So, like all good bloggers who posted their
goals for the new year
; I added how I wanted grow my blog #basicbloggergoal
I was looking at my monthly statistics to see what is getting the most traffic. Majority of them are Friday Favorites #noshame
But one
SPECIFICALLY
is getting 367 pageviews. I'm not a big time blogger here. I'm lucky to get 100 pageviews on a post #imsmalltownandproud
You want to know why this specific Friday Favorites post is getting all of this traffic?? Glad you asked! Because one of my images that I used (also found on Pinterest but like all good Pinterest fashion, the pin doesn't lead anywhere) got pinned
928 TIMES!!
#WHYYYY #excusemewhileipassout
Yes. It is cute. Don't get me wrong. And the image said it was found on my site so yay for traffic! But I'm sorry. I just don't get it. #someonepleaseexplaintome
So does this mean I'm #Pinterestfamous now??? #pleasesayyes
While you're at it,
follow me
;) Since I just talked about my leap in success #notreally #yesIknowImlame
That is all. Happy #HashtagHumpday, y'all :)