It's #HashtagHumpDay! Thanks for joining
Laura
and I for the 8th week of our link-up! If you're missing out this week, no sweat, just join us next week and every Wednesday after that!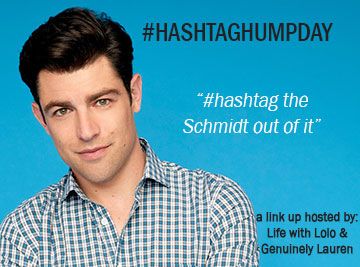 Let's call these rules the 'skinny' because rules just sounds way to formal and this is anything but:
Talk about whatever you like! Just as long as you ad a #hashtag at the end of it because it's #fun
Link your post up here or with my gal pal Laura so we can read all about your life and thoughts #takenoprisoners
Comment on at least one other post and make friends because that's the point of linkup right? #letsbefriends
Share it on social media and add #hashtaghumpday #allofthesocialmedia
Have fun! #hashtageverything
I've realized that after my first full week of working full-time that I need to plan better. And actually stick to said plan that I've "written out" for that day. Because you know those lovely
goals
I set out for my awesome year of 2015?? Yeah. Let's try to make those happen #planningismygame #wellitwillbe
So this is my second week of training in the new job and I feel that my mind is going to explode with all of the information I've learn and that I'll screw up everyone's reservation #mybrainhurts
Along with that, in our training we tour a lot of the resorts we manage and basically what I've taken away from it all is that I will own a beach condo and how to decorate my future home. As if
Pinterest
wasn't enough #amatuerdecorater #iwishiwasamillionare
I mentioned a while ago about our current financial stresses and how my mom was a super mom and help Blake and I out with getting a car. Well. WE GOT A NEW CAR! Well, not new necessarily. It's a '97 Honda Civic and runs like a dream would in 1997. It's pretty awesome. Blake is already planning on calling it the Crimson Mobile. He splurged and got new car flags and decals, of course all Alabama related #werearealmarriedcouplenow
In relation to Alabama, and I might lose your attention after this, I'm not happy with Ohio State winning the National Championship. Not at all. I mean as a fellow Big Ten school, it's pretty interesting and kinda cool to see our conference represented with the Big Kahuna's of college football. I just hope the rest of the Big Ten doesn't think that they can compete with other big conferences like SEC and PAC 12. Football is just not really our strong suit. I mean other than Ohio State clearly and Michigan State #nooffensebuckeyes #bigtenlove
Sorry for being short here, guys. I will make it up with all of the planning and wonderfulness I will make myself do! While you're at it you should check out my
tips for line dancing beginners
since I'm an expert and all #notreallyanexpert #iwantadancinghorse
Hope you'll link up with us! Actually, you should just get go ahead and do it.