It's #HashtagHumpDay folks! The greatest day of the week! Because we are half way through the week which means we are that much closer to Friday.
Thanks for joining me and my best gal pal
Laura
. While you're here,
hop on over
and show her some love! She's kindof a big deal if you know what I mean :)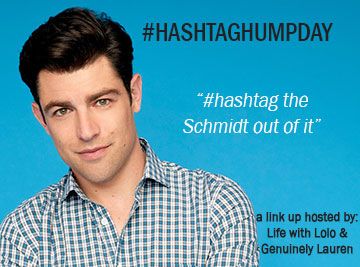 Lets call these rules the 'skinny' because rules sounds way too formal and this is anything but:
- Talk about whatever you like! Just as long as you ad a #hashtag at the end of it because it's #fun
- Link your post up here or with my gal pal
Laura
so we can read all about your life and thoughts #takenoprisoners
- Comment on at least one other post and make friends because that's the point of linkup right? #letsbefriends
- Share it on social media and add #hashtaghumpday #allofthesocialmedia
- Have fun! #hashtageverything
So, really, what did you all think of this years
Super Bowl commercials
?? I was in between crying and just have straight confusion of why some of the commercials we're even there. #stillnotafan #iwantmyfunnycommercialsback
Bar Rescue comes back on on Sunday!! It's really a bonding time for me and Blake when we watch it. Because then we can really judge the owners and wonder how the heck some of the these people run a business. #alwaysjudgingyou #neverowningabar #canIgetabachelorsinbarscience
With the premiere of The Blacklist after the Super Bowl, I've never been so excited to actually have a full T.V. schedule. Did anyone see that Clay Morrow from SOA was on the premiere??? You know what would've made it better? Clay Morrow actually playing Clay Morrow in that episode #yesiwentthere #tvinception
I don't think I've ever been more stressed and relieved than when we filed our taxes on Sunday. Picture this: We're filing jointly. Blake is a resident of Missouri. I'm a resident of Illinois. It was most likely the biggest headache I've ever had in my life #amIgrownupnow #wheresmymom
I'm not doing so great with trying out the craft beers from the new place that I opened up. I was 0 for 2 on my count of new beers #SOSoncraftbeers #Laurapleasehelpme
I'm doing the #1800MinuteChallenge with
Erin
! Follow along with me on
Instagram
and see my progress for my half marathon that I'm supposed to be running in April #nbd #letsgetrunning
Happy #HumpDay, folks!