It's #HashtagHumpDay folks! The greatest day of the week! Because we are half way through the week which means we are that much closer to Friday.
Thanks for joining me and my best gal pal
Laura
. While you're here,
hop on over
and show her some love! She's kindof a big deal if you know what I mean :)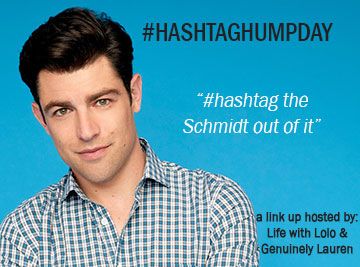 Lets call these rules the 'skinny' because rules sounds way too formal and this is anything but:
- Talk about whatever you like! Just as long as you ad a #hashtag at the end of it because it's #fun
- Link your post up here or with my gal pal
Laura
so we can read all about your life and thoughts #takenoprisoners
- Comment on at least one other post and make friends because that's the point of linkup right? #letsbefriends
- Share it on social media and add #hashtaghumpday #allofthesocialmedia
- Have fun! #hashtageverything
Probably the saddest thing happened last night. My library card that I've had since I was 6 expired last night. And I have no idea how to renew because I no longer live in my hometown where my precious library is - WORST DAY EVER! #ineedmylibrarycard #SOS
I'm a lone wolf until Friday! Blake is with his friends for Spring Break and isn't returning until Friday. Which means I get to actually cook the things I want - which is basically pasta because Blake hates tomatoes. And I don't know what I can cook for just 1 anymore. #pleasesendrecipesforone #whowantstopartywithme
We finally have our move-in date for our
new place
- April 1st! Which means we're that much closer to getting our puppy! :) I don't know what I'm more excited about, having more space for all of my things or adding a member to our family #somuchspaceforactivities #bymemberimeanpuppy
Speaking of members to the family, I found out last week that one of my military wife friends is pregnant and I was the last one to find out! My husband knew before I did! One of his friends and husband to another friend of mine was all like "I didn't think it was any of my business to tell!" Maybe, but it is 100% your business to tell! I found out on Facebook - which I wasn't happy about it. But the most weird thing about it is that her and her husband got married the same time we did and she's the same age as me. I don't know if I'm ready to cope with that just yet. #wholetmeadult #toomuchadultforoneday
This post was brought to you by my second glass of wine #winecuresall #theywerebigglasses
Tell me if this make sense. So the dog we wanted to get and even filled out an adoption application for, we are unable to. Why you may ask?? I'm glad you did. So we can't get him till we move into our new place and our place we're in now won't let us have him because "pitbulls aren't allowed on the property" even though they have a no dog policy to begin with. Even though they gave us approval to have him in our apartment for two weeks and pay $98 fee. Last week was a rough week. So our new landlord, who is awesome, said she would foster him until we could adopt him two weeks later. Sounds like a solid plan right?
This is the kicker. Our application got approved. Our landlord's foster application got approved. But they still won't let us adopt him because "he's on a hold and can't go through the foster program." Uh, what??? We come to find out that they put the dog on hold for us - without even notifying us and originally said they couldn't anyway - and that apparently they don't want him to bond with our landlord for two weeks. So they would rather him sit in the kennels until someone adopt him rather than us, who have bent over backwards to try and make him ours, and have him sleep in a bed. I've never been so upset about something in all of my life because there was literally no logic behind their reasoning at all. So needless to say, the dog that I fell in love with and have been brought to tears all week over because I don't want him in that kennel anymore, will not be ours. Back to the drawing board we go to find a new addition to our family #nohashtagneeded