It's #HashtagHumpDay folks! The greatest day of the week! Because we are half way through the week which means we are that much closer to Friday.
Thanks for joining me and my best gal pal
Laura
. While you're here,
hop on over
and show her some love! Props to her for picking up my slack last week when I was terrible host and in the process of moving. She's also sick so hope that she'll feel better!!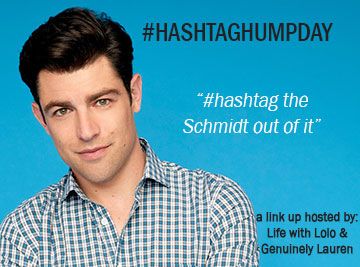 Lets call these rules the 'skinny' because rules sounds way too formal and this is anything but:
- Talk about whatever you like! Just as long as you ad a #hashtag at the end of it because it's #fun
- Link your post up here or with my gal pal
Laura
so we can read all about your life and thoughts #takenoprisoners
- Comment on at least one other post and make friends because that's the point of linkup right? #letsbefriends
- Share it on social media and add #hashtaghumpday #allofthesocialmedia
- Have fun! #hashtageverything
I'm still jumping for joy now that I have some piece and quiet in my new house. Love Blake's friends and all. But a house full of grown boys that take up all of my space brings out an ugly side of me that I'm not a fan of. #youwontlikelaurenwhenshesangry #getoutofmybubble

I'm pretty sure my dog has separation anxiety. Like legit. Blake told me that on Monday when I was at work and that every time Collins heard a car pull up outside he would run by the door and sit and wait or me to walk through the door. #quemytinyviolin #breakmyheartintoatinypieces

I haven't crafted anything in over a month and I'm having serious withdrawals #dontmakefunofme #mustcrafteverything

FINDING CARTER IS BACK AND IT'S BETTER THAN EVER!! I also just realized that 3 out of the 5 shows I watch during the week are on MTV #noragrets #givemeallofthedrama
Countdown is now 2 weeks away from my half marathon in Nashville and I am in no way prepared #shouldirunnoworlater #probablylater
Happy Wednesday, friends!