It's #HashtagHumpDay folks! The greatest day of the week! Because we are half way through the week which means we are that much closer to Friday.
Thanks for joining me and my best gal pal
Laura
. While you're here,
hop on over
and show her some love! Did you see the
deliciousness
she cooked up yesterday?? Like, get in my belly right this instant.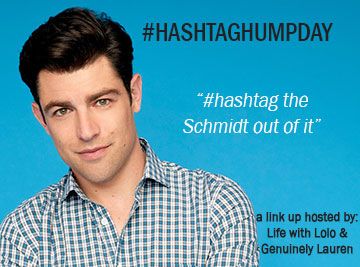 Lets call these rules the 'skinny' because rules sounds way too formal and this is anything but:
- Talk about whatever you like! Just as long as you ad a #hashtag at the end of it because it's #fun
- Link your post up here or with my gal pal
Laura
so we can read all about your life and thoughts #takenoprisoners
- Comment on at least one other post and make friends because that's the point of linkup right? #letsbefriends
- Share it on social media and add #hashtaghumpday #allofthesocialmedia
- Have fun! #hashtageverything
Collin's thought 2 am last night/this morning was a great time for some puppy play time. I let him "try" to get some of his energy out for an hour. Didn't quite work out so I had to guilty-ly(is that even a word?) put him in his crate to calm down #badpuppyparent
And now he's sleeping right next to me all cuddled up acting like the perfect angel he thinks he is #hesluckyhessocute
Today is my baby sister's birthday! She turns 18 today. Look how beautiful she is! #babyturns18

Any of my Floridians know about those "Salt Life" slogans that are all over car decals and t-shirts? Every time I see it I always think that it says "Slut Life" and think to myself "I don't know if I would admit that on your car..." #awkward #youdoyoubooboo

I have a list of things to do today but all I want to do is drink multiple cups of coffee, lay on my couch, and possibly take a nap. But I know that drinking multiple cups of coffee will kinda take care of that whole taking a nap thing. #wednesdaysareforlazydays

Happy Hump Day, friends!