It's #HashtagHumpDay folks! The greatest day of the week! Because we are half way through the week which means we are that much closer to Friday.
Thanks for joining me and my best gal pal
Laura
. While you're here,
hop on over
and show her some love! Did you see the
deliciousness
she cooked up yesterday?? Like, get in my belly right this instant.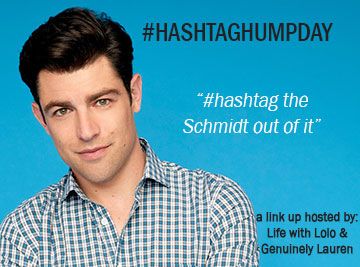 Lets call these rules the 'skinny' because rules sounds way too formal and this is anything but:
- Talk about whatever you like! Just as long as you ad a #hashtag at the end of it because it's #fun
- Link your post up here or with my gal pal
Laura
so we can read all about your life and thoughts #takenoprisoners
- Comment on at least one other post and make friends because that's the point of linkup right? #letsbefriends
- Share it on social media and add #hashtaghumpday #allofthesocialmedia
- Have fun! #hashtageverything
Okay, serious talk. Who enjoyed the ACMs on Sunday?? It made my little 90s country soul very happy #givemeallofthe90scountrylove
On that note, was I the only one who didn't know that Nick Jonas sang Chains and Jealous?? #iliveunderarock #youllalwaysbethejonasbrotherstome
Tomorrow I hit the road for my half marathon! I can already predict that I will not be a happy camper come Sunday when I have to be at work #somanyows #horizontalrunning
Real talk, any dog owners know how to get their dog to stop eating their own poop. Collins' is getting pretty sneaky about venturing off and pooping in the other room and then eat to make it look like he didn't do anything wrong #ihatepottytraining #givecollinsalloftheGreenies
I just realized that I've done a lot of real talks for this weeks post #notevensorry
I had the biggest Pinterst fail of a
meal
last night.
This
was the recipe I used. I don't know what went wrong but it did not taste like I thought it would. This is a time when I wished I lived less than 30 minutes away from the nearest Chipotle #takeouttotherescue #butireallywantChipotle