It's #HashtagHumpDay folks! The greatest day of the week! Because we are half way through the week which means we are that much closer to Friday.
Thanks for joining me and my best gal pal
Laura
. While you're here,
hop on over
and show her some love!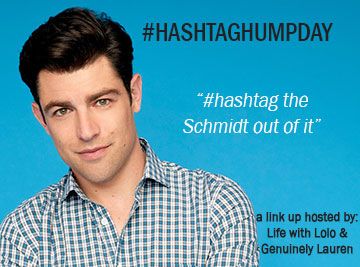 Lets call these rules the 'skinny' because rules sounds way too formal and this is anything but:
- Talk about whatever you like! Just as long as you ad a #hashtag at the end of it because it's #fun
- Link your post up here or with my gal pal
Laura
so we can read all about your life and thoughts #takenoprisoners
- Comment on at least one other post and make friends because that's the point of linkup right? #letsbefriends
- Share it on social media and add #hashtaghumpday #allofthesocialmedia
- Have fun! #hashtageverything
Let me play you the following scenario:
"Are you looking to stay at specific property or area for your vacation?"
"On the beach." #NOKIDDING #alwaysthesameanswer
My list is never ending of everything I need to get done before I leave on Monday for Mexico #willigetitalldone #probablywillgethalfofit
WE GET OUR WASHER AND DRYER DELIVERED TODAY AND I'M SO EXCITED I THINK I'M GOING TO BURST!! #amiofficiallyanadultnow #imayvomittoo
And Friends has been on repeat on my TV #notevensorry #the90sisthegreatestdecadeever

Maybe I should get a move on for my list to do today - but my couch is just so comfy #lazydayoff