Sup bros.
Everything is now back in working order.
We got my gal pal
Laura
back from her vacay! And thanks to
Kasey
for stepping up to the plate (get it??) and covering our behinds for the past 2 weeks. You rock, girlfriend!
And now, back to our regular scheduled programming.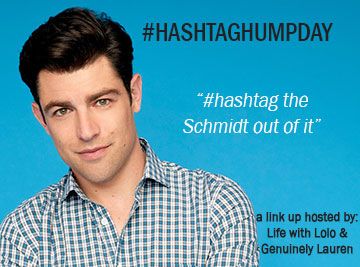 Lets call these rules the 'skinny' because rules sounds way too formal and this is anything but:
- Talk about whatever you like! Just as long as you ad a #hashtag at the end of it because it's #fun
- Link your post up here or with my gal pal
Laura
so we can read all about your life and thoughts #takenoprisoners
- Comment on at least one other post and make friends because that's the point of linkup right? #letsbefriends
- Share it on social media and add #hashtaghumpday #allofthesocialmedia
- Have fun! #hashtageverything

Blake has now moved to the late shift for work. So we really don't see each other. Which kinda sucks for us. But luckily he made it up by having one of his days off be the same as mine since I don't have a normal job where I have normal days off. It's fine. #dontmindme #imjustbitter

Also, Blake and I are workout buddies. And by workout buddies I mean that he shows me up with his strong weights while I follow my new workout program. I'm just a newbie! #notreally #imjustreallynotfitanymore #iusedtohavemuscles

Does anyone notice that all of the players in the Softball College World Series that their hair is freakishly long?? Like and it's not just one. It's all of them. #imnotjealousoranything #imisssoftballandwantmermaidhair


This whole tracking your meals thing is pretty hard. It's not so much the meals - it's that I have to make sure everything fits into my set macros for the day. First day and I already went over on my carbs by about 20 grams and I'm sure I didn't track it correctly and it's way more than that #iliketoeat #isbutteracarb #justgivemabrowniealready