Hello ladies!
It's #HashtagHumpDay and I'm joined by my fave gal pal and blogger in crime
Laura
- give her some love why don't you!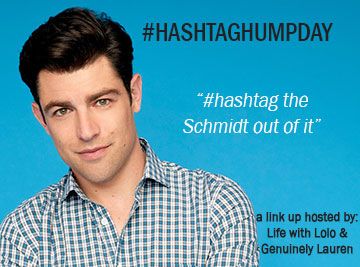 Lets call these rules the 'skinny' because rules sounds way too formal and this is anything but:
- Talk about whatever you like! Just as long as you ad a #hashtag at the end of it because it's #fun
- Link your post up here or with my gal pal
Laura
so we can read all about your life and thoughts #takenoprisoners
- Comment on at least one other post and make friends because that's the point of linkup right? #letsbefriends
- Share it on social media and add #hashtaghumpday #allofthesocialmedia
- Have fun! #hashtageverything
Can I say how much I love having Wednesdays off?? It breaks up the week and I can be lazy all day with no regrets #noragrets #notevenasingleletter
We had planned to go to the dog beach today. But due to good ol' Florida Mother Nature it's scheduled to rain all day by the beach. Collins is clearly pissed even though he'll get to sleep all day anyways #dogbeachdays #calledonaccountofrain
But in all honesty - anyone know of recipes that are high in protein but not so much carbs?? That are husband approved too because I really don't want to make separate meals just for him #sendmethehealthymeals
I got Collins an extremely large bone on Sunday and it's already down to nub. Boy really likes his bones and I should probably be putting him on a bone allowance #boneshortage #collinsneedsapiggybank
Now we're off to the dog park before the rain hits and wear out my puppy a little bit. Happy hump day friends!