Hey girl hey!
Let's skip the whole of how much I love being off in the middle of the week and get right into the link-up, shall we??
It's #HashtagHumpDay and I'm joined by my fave gal pal and blogger in crime
Laura
- give her some love why don't you!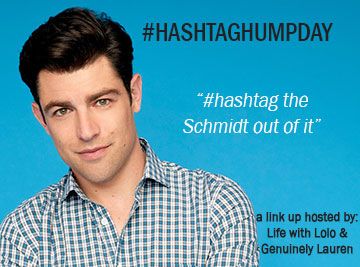 Lets call these rules the 'skinny' because rules sounds way too formal and this is anything but:
- Talk about whatever you like! Just as long as you ad a #hashtag at the end of it because it's #fun
- Link your post up here or with my gal pal
Laura
so we can read all about your life and thoughts #takenoprisoners
- Comment on at least one other post and make friends because that's the point of linkup right? #letsbefriends
- Share it on social media and add #hashtaghumpday #allofthesocialmedia
- Have fun! #hashtageverything

This is the first #hashtaghumpday post I've done where I actually use my #hashtags and act like the host I am. #sorryguys #illbeabetterblogger


Is posting pictures to Facebook like not a thing anymore?? Because I definitely just uploaded all of my pictures from the summer - either that or it's just my laziness. 300 pictures later... #iusedtobethephotoqueen #jkistillwearthecrown #sorryforallofthedogpictures
And due to my lack of postage, I feel like I have so much to say but never get the actual time to sit down and say it. All thanks to the pup who loves to play fetch and hates when I sit on the couch #spoiledpuppy #playwithmeandtellmeimpretty
Yesterday at the dog park Collins was 3 for 3 for stealing another owners shoes and taking them into the water. And what's worse is that everyone thinks it's so funny and he just trots around like "HEY LOOK WHAT I GOT!! NAH NAH NAH BOO BOO!" While I'm just standing there like "please don't encourage him" #mydogslikesshoes #heneedstolearnmanners
I'm at the point of frustration with my computer where it runs so slow that I want to throw it against the wall. I've run diagnostics, cleared cookies, removed programs, EVERYTHING and it's still running the slowest ever. And while I was talking to my mom the computer wiz about it she said to just send it up to her to repair it but catch is that I have to be without my computer for a whole week. Um, what?? #ineedmycomputer #howaboutyoucomedownhere
Lately, my husbands idea of wooing me and being soft is surprising me at work on his bike and us taking a ride and going out to dinner after. To say he really loves his Harley is an understatement #motorcycledates #notcomplainingaboutthedate
Happy Hump Day, friends!