Hey girl hey!
Let's skip the whole of how much I love being off in the middle of the week and get right into the link-up, shall we??
It's #HashtagHumpDay and I'm joined by my fave gal pal and blogger in crime
Laura
- give her some love why don't you!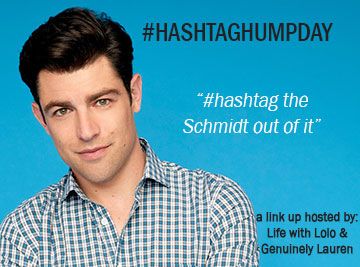 Lets call these rules the 'skinny' because rules sounds way too formal and this is anything but:
- Talk about whatever you like! Just as long as you ad a #hashtag at the end of it because it's #fun
- Link your post up here or with my gal pal
Laura
so we can read all about your life and thoughts #takenoprisoners
- Comment on at least one other post and make friends because that's the point of linkup right? #letsbefriends
- Share it on social media and add #hashtaghumpday #allofthesocialmedia
- Have fun! #hashtageverything
My dad is coming to town tomorrow and I am so excited!! It'll be the first time he's visited in the year and a half I've lived in Florida and first time I've seen him since Christmas. I've got a lot of fun things planned. Most of them including the dogs, of course #puppieshavetohavefuntoo #daddyvisit

Ever since I got my Simplified planner last week I've been obsessed with how to decorate it with stickers, washi tape, and all of those fun pretty things that go in planners. At least it's distracting me from not writing in it until January. Or preparing me, I'm not sure which. #etsytakeallofmymoney #iliketocallitplannerbudgeting

FALL TV SHOWS ARE BACK AND I'M SO EXCITED!!! #illprobablystillwatchnetflixinstead #thankyoudvr

I really wanted to rearrange my living room to make it more open and so that I can keep an eye on my dogs and make sure they're not doing something they're not supposed to (read: potty). But apparently my good ol' cable provider tells me otherwise because my townhouse is so old they can't move my cable to the other wall. Really? Because you guys drilled a hole through my wall 6 months ago, you're telling me you can't do it again?? #ithinktheyrejustlazy #iguessillstartdecoratingnow

Have any of you downloaded the gif keyboard app??? Game changer. Let me tell you. I'm easily amused and my coworker and I have only been communicating in gifs for the past few days #gifsarebetterthanemojis #theyredefinitelybetterthanwords

Can I just say how lucky I am to be living where I am? There was a 50/50 chance earlier this week that we would've had to move. Obviously that fell through and I feel super blessed #blessed #yesthatjusthappened


Hope you all have a good Humpday!