Hey girl hey!
Let's skip the whole of how much I love being off in the middle of the week and get right into the link-up, shall we??
It's #HashtagHumpDay and I'm joined by my fave gal pal and blogger in crime
Laura
- give her some love why don't you!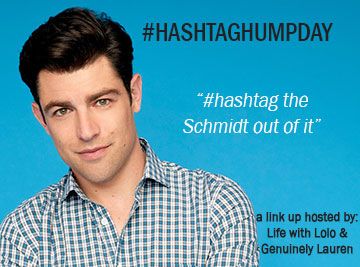 Lets call these rules the 'skinny' because rules sounds way too formal and this is anything but:
- Talk about whatever you like! Just as long as you ad a #hashtag at the end of it because it's #fun
- Link your post up here or with my gal pal
Laura
so we can read all about your life and thoughts #takenoprisoners
- Comment on at least one other post and make friends because that's the point of linkup right? #letsbefriends
- Share it on social media and add #hashtaghumpday #allofthesocialmedia
- Have fun! #hashtageverything
Can I vent/become emotional for a second? Monday morning I was taking my litter out to go potty since I don't have a yard at 5:00am. We're minding our own business and almost finished up when some chick was jingling her keys right by the cars and then down the road there was a couple walking in the middle of the street. Needless to say they went crazy because there was too much going on so early in the morning. I was trying to pick up some of their poop while I lost my grip on Collins leash and he bolted down the street towards the couple because clearly he needed to say hi to them. There walk would not be the same with out it. You would think that they would be nice people and help a sister out with two other dogs in my other hand and pick up Collins leash. But, oh no. You would think Collins chewed her to pieces because she screamed bloody murder and was yelling at me "JESUS CHRIST GET HIM OFF OF ME!! GET HIM OFF OF ME!!" And then she sped walked down the street. Thankfully her husband grabbed the leash for me and I apologized immensely because I felt so bad and so embarrassed. And then I came back inside and cried my eyes out because I had just watched Pitbull and Parolees and a dog had to get removed from an owners care due to being labeled aggressive over a harmless situation and I thought that was going to happen to me. #imsoemotional #itwasalso5inthemorning
Thank you for sticking with me through that one. Long story short, I'm terrified that my dogs will get removed from my care over something like that is so innocent and call me a bad pet owner #notabadpetowner #youjustsuckasaperson
Speaking of dogs, I have been binge listening to a podcast called Can I Pet Your Dog? And it's all about you guessed it, dogs. The greatest thing ever. Highly recommend it #golistennow #ifyoulovedogsandyouknowit
One of my best friends from college got engaged this past weekend! And I would like to take responsibility for that relationship coming to be. Well, really I gave my best friend the confidence to express her feelings to the guy she's friendzoned for so many years. #matchmakerLauren #imaprettybigdeal
Also something big/sad that happened this week - I got an email this morning about my sorority chapter will become dormant after this school year is over. Being on a large campus with a very large Greek community, it's super hard to retain members and we had this same problem in my 4 years as an active member. We kinda knew that it was coming but it still hurts all the same #notfouryearsbutforlife #RIPSigmaKappaTheta
I've just realized that this entire post is involving a lot of my emotions #noragrets #ijusthavealotoffeelings
Now time to turn my week around because it's Wednesday and I don't work today. Happy Hump Day friends!