Hey girl hey!
Let's skip the whole of how much I love being off in the middle of the week and get right into the link-up, shall we??
It's #HashtagHumpDay and I'm joined by my fave gal pal and blogger in crime
Laura
- give her some love why don't you!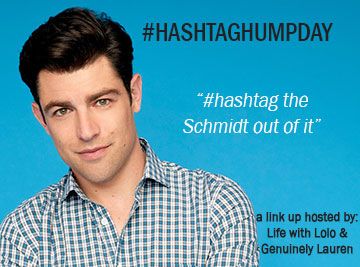 Lets call these rules the 'skinny' because rules sounds way too formal and this is anything but:
- Talk about whatever you like! Just as long as you ad a #hashtag at the end of it because it's #fun
- Link your post up here or with my gal pal
Laura
so we can read all about your life and thoughts #takenoprisoners
- Comment on at least one other post and make friends because that's the point of linkup right? #letsbefriends
- Share it on social media and add #hashtaghumpday #allofthesocialmedia
- Have fun! #hashtageverything

I am never ever ever ever ever EVER having carpet again. I loathe the day for when I move out of here and my landlord sees how much my twins destroyed the carpet. And I have not idea how to stop them #SOS #dogmomneedshelp #puppywoes #illjustdrinkmywineandcry

We we're a bunch of winners this weekend. We did a poker run on Sunday that was hosted by the Bike Rally the past week and we won the coolest chair of all time! Like, so cool we don't even want to put it outside because we're afraid someone will steal it #theyoungbuckswon #winnerwinnerchickendinner #iwantmineinpink
Last week I shattered my phone screen and luckily got it replaced that day for a much less price than buying a brand new phone. I got it fixed and it looked beautiful like I've never even dropped it. But of course, once one is issue is fixed, another one arises. My front facing camera is in complete blur. #imayneverselfieagain #HOWWILLILIVE
While grocery shopping on Sunday the commissary had the CUTEST mini pumpkins for .89 cents a pound. I couldn't resist. So now we have some decorations. Minimal, but effective. #fallhasreachedthemullikinhome #butonlyforalittlewhile #ifitsnotmovingmonogramit
I really REALLY want to get a tree this year for Christmas since we're not going anywhere for the holidays but I'm so terrified to get a tree and have the dogs tear it down every other day and break all of the ornaments #pleasesendsuggestions #mydogsplayrough #butilovechristmas
LINK UP and have FUN!
And come back next Monday for the
monthly recap link-up
!