Hey girl hey!
Let's skip the whole of how much I love being off in the middle of the week and get right into the link-up, shall we??
It's #HashtagHumpDay and I'm joined by my fave gal pal and blogger in crime
Laura
- give her some love why don't you!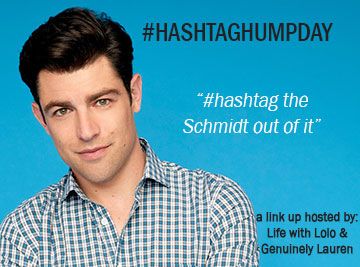 Lets call these rules the 'skinny' because rules sounds way too formal and this is anything but:
- Talk about whatever you like! Just as long as you ad a #hashtag at the end of it because it's #fun
- Link your post up here or with my gal pal
Laura
so we can read all about your life and thoughts #takenoprisoners
- Comment on at least one other post and make friends because that's the point of linkup right? #letsbefriends
- Share it on social media and add #hashtaghumpday #allofthesocialmedia
- Have fun! #hashtageverything
You know what is the worst feeling in the world? Your favorite jeans ripping on the inside because you've worn them too much. Even worse than that? Your favorite yogas ripping. #excusemewhileicry #idontwantobuynewjeans
NOW I HAVE TO GO BUY NEW JEANS AND THEY WON'T BE THE SAME!! #someoneholdme #canihavemyoldjeansback
Now that we've got that out of the way, onto exciting news. For instance, in the next few weeks Laura and I will be celebrating one year of this link-up! All of the #Hashtag goodness for one whole year! Can you believe it? Because I sure can't. #imsoexcitedandijustcanthideit #ceelllebrategoodtimes
And you know, there's also Christmas coming too #itsthemostwonderfultimeoftheyear
Fall weather has finally graced us with it's presence down here in Florida. Yesterday it was a high of 60 degrees. I know that doesn't sound like much, and you're probably like "OMG Lauren, it's been 60 degrees since September." No, ma'am. This is the first day where it wasn't a high of 80 degrees with a humidity of 100% #littlevictories #fallhasarrived
Why can't healthy things become a habit as easy as eating ice cream can? Like if I could eat healthy all day, work out every night, and look healthy and make all of this a habit like I've made eating ice cream every night - I think I would be sold #icecreamishealthyright
I've recently discovered a good balance in the books I'm reading. Read a current book, read a non-fiction, and then read a book that's been on my list since I was 12. I just currently finished The Clique by Lisi Harrison and has made my 12 year old heart very happy #itscalledbalance #readwhateveriwant
Happy Hump day friends!