Hey girl hey!
Let's skip the whole of how much I love being off in the middle of the week and get right into the link-up, shall we??
It's #HashtagHumpDay and I'm joined by my fave gal pal and blogger in crime
Laura
- give her some love why don't you!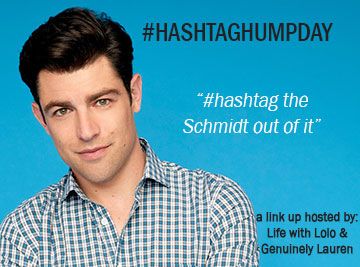 Lets call these rules the 'skinny' because rules sounds way too formal and this is anything but:
- Talk about whatever you like! Just as long as you ad a #hashtag at the end of it because it's #fun
- Link your post up here or with my gal pal
Laura
so we can read all about your life and thoughts #takenoprisoners
- Comment on at least one other post and make friends because that's the point of linkup right? #letsbefriends
- Share it on social media and add #hashtaghumpday #allofthesocialmedia
- Have fun! #hashtageverything
You guys want to know some really exciting news???!! Please contain your excitement. Next week is our one year anniversary hosting this lovely link-up! And Laura and I are hosting a little giveaway for all of you lovely souls that stop by here every week. But it won't be next week on our actual link-aversary - it will be the week after due to the holiday of giving thanks. #linkaversary #yesicreatedthatword
Okay, enough excitement. Real talk: I'm on the struggle bus #proudmember #wheresmyjacket #realtalk
I'm good about going to the gym for maybe like a week, and then I don't go for a few days, then go back for a day, then don't go for another few days, etc. Are we seeing a pattern? I need to get back into the swing of things and in a routine. Basically I need my life together #ineedtogetfit #whoisdrivingthefitbus #someonehelpmegetonit
I'm struggling for finishing books on time. Mostly I think my biggest struggle is getting too many books at the library and that's why I'm not reading them in the 2 week borrow period #thankgoodnessforrenew #butiwanttoreadallofthebooks
And all I want to do is talk about the books I've read. You know those good ol'
book reviews
I did forever and a minute ago when I actually wrote frequently on this ol' space? I miss those too #ihave4bookreviewsinmydrafts #willieverpostthem? #theworldmayneverknow
My dogs currently have a thing with chewing up cables. No matter how much I try to keep them out of their reach, the sly ones always snatch them back up. But hey, it could be worse. It could be my carpet #ohwait #thatalreadyhappened

These are good struggles to have, right??! #blessedstruggles #isthatevenathing? #immakingitathing

Link up, below! Tell your friends! Get excited about the giveaway in 2 weeks!