Hey girl hey!
It is the Eve before Christmas Eve! and It's #HashtagHumpday! Two for one, yes? I know you all are super busy with starting to spend time with your family - but thanks for stopping by and linking up with my partner in crime
Laura
! Y'all are a real peach :)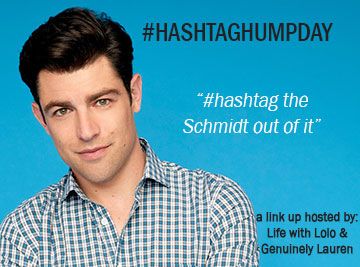 Lets call these rules the 'skinny' because rules sounds way too formal and this is anything but:
- Talk about whatever you like! Just as long as you ad a #hashtag at the end of it because it's #fun
- Link your post up here or with my gal pal
Laura
so we can read all about your life and thoughts #takenoprisoners
- Comment on at least one other post and make friends because that's the point of linkup right? #letsbefriends
- Share it on social media and add #hashtaghumpday #allofthesocialmedia
- Have fun! #hashtageverything
Last night we went out to dinner for Blake's birthday and they had $3.50 martini night. Now, I'm not one to order a martini. But I'll try anything when it's half price :) #cheapalcoholplease #probablywonthaveoneagain #unlesstheyrehalfprice
We're having a holiday dinner at our friends house tomorrow and I'm in charge of the alcohol - fitting. I'm doing a holiday sangria and I'm super stoked about it.
This
is the recipe I'm trying out. #allofthealcoholplease #yesmorealcohol #happyholidays
We gave the dogs an early Christmas present last night - an XL Kong toy. And they have gone crazy over it. I put some peanut butter in it once they got it and now they keep running around with it. #mypackofpsychos #theydontsharetoys #nowtheyeachneedtheyreown
I'm keeping this nice and short today. Hope you all have a great Christmas! I'll be spending the next few days watching ABC Family 25 Days of Christmas :)