Hey girl hey!
It's #HashtagHumpday! You know the drill - drop your link below and visit my favorite gal pal/blogger in crime
Laura
while you're at it. Y'all are a real peach :)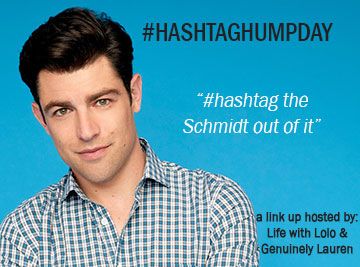 Lets call these rules the 'skinny' because rules sounds way too formal and this is anything but:
- Talk about whatever you like! Just as long as you ad a #hashtag at the end of it because it's #fun
- Link your post up here or with my gal pal
Laura
so we can read all about your life and thoughts #takenoprisoners
- Comment on at least one other post and make friends because that's the point of linkup right? #letsbefriends
- Share it on social media and add #hashtaghumpday #allofthesocialmedia
- Have fun! #hashtageverything

A little update on the pregnancy front, since that is about the only thing exciting going on in my life at the moment. #pregopost
I'm now poking out more and more every week passing.
I just had an appointment yesterday and got to see the little one! Apparently an ultrasound wasn't in the cards for the appointment but they allowed it since they know Blake isn't here and I can send the ultrasounds to him.
I got to hear the heartbeat for the first time!
No weight gain yet, which I'm told is normal. My doctor is predicting I'm going to gain about 25lbs and all I'm thinking about is how fun that is going to be to lose post baby #pleasecatchonmysarcasm
Countdown to 2 weeks until we find out the sex of the baby! #teamboyorteamgirl #myvoteisboy