Hey girl hey!
It's #HashtagHumpday! You know the drill - drop your link below and visit my favorite gal pal/blogger in crime
Laura
while you're at it. Y'all are a real peach :)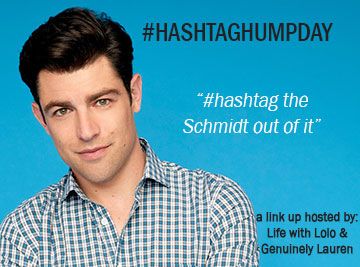 Lets call these rules the 'skinny' because rules sounds way too formal and this is anything but:
- Talk about whatever you like! Just as long as you ad a #hashtag at the end of it because it's #fun
- Link your post up here or with my gal pal
Laura
so we can read all about your life and thoughts #takenoprisoners
- Comment on at least one other post and make friends because that's the point of linkup right? #letsbefriends
- Share it on social media and add #hashtaghumpday #allofthesocialmedia
- Have fun! #hashtageverything
I'm deciding to do things a little differently today. I'm going to share my goals, or more so challenges, that I am doing for 2016. Even though it's February and all. But January was a trial month, am I right?? #iwasntreadyformygoals #illtakeamullaginon2016

I'm gonna work on my fitness. Like, actually work on it. Really I just want to be healthy and not eat so much crap. I know if I actually work on it I can lose weight, like last year I lost 10lbs. So to encourage me to actually get a jump on things - I am going to do 12 races this year, 1 per month, and I also want to stare doing pure barre classes. There's a studio about 20 miles from my house and I want to get into this craze. I feel like I spend the money I'll be more inclined to do it. #getfitnotfat #sweatingforthehomecoming #jkbutreally

I'm also gonna hop on that reading train again! Like last year again, I want to read 52 books. And I feel like I'm in a better position to actually complete it. I mean, I only read half of those books last year, which isn't bad. But I've already read 4 books so far! Follow me on Goodreads! Also I want to read 20,000 pages total. #bringit #iwanttobeabookwormagain #bringonthebookreviews

I want to explore Florida. We've been living in for almost 2 years now and I want to go see places, do fun activities, and eat at different restaurants that aren't in our normal rotation. This might be a little difficult with Blake leaving soon, but I want to explore while he's here and do a little on my own. I'm not exactly sure what exploring entails, but I just want to get out of our normal rut of things to do before we leave from this place whenever that would be. #explorationnation #lovewhereyoulive

Save all of the money! I feel that everyone has this goal. But it's a good goal to have. I want to save at least 10% of my paycheck and also try to pay off my credit cards and my student loans. I don't have to start paying my student loans until next April so I'm just wanting to contribute as much as I can as soon as possible. Anything to get my credit better as well! #saveallofthemoney #soicanbuymorethings

I want to make my house feel more like a home. I already kind of started this with our living room and bathroom - but I have a list of furniture and decor that I'm wanting to add. Like a dining room table. Actually I was told I need to get that before my family comes back down in June. But I figured I will be adding these things slowly since furniture and decor costs money, you know that whole song and dance #makemyhousefeellikeahome #makeitpretty

I want to get back into cooking. I fallen back into a rut of meals to make, or I'm not cooking and just buying food since I'm just cooking for myself. Soon enough I'm going to be cooking for myself all of the time, but I actually want to have good quality meals. I think that cooking for myself might come to an advantage since Blake is so picky about what I cook. #cheflaurenisbackagain #welltryingtogetbackintothekitchen

I want to create again. And I'm kind of leaving that generic on purpose. Create wreaths, decor, crafting again, meals - whatever that may be. I just want to be creative again because it was what I have always enjoyed doing. I remember last year I said I wanted to open my own Etsy shop and I still want to do that, but I just don't know when the right time would be to do so. Until then, I will create for myself and whoever else would love them. #craftingqueen #actuallymorelikeaprincess

These damn dogs are getting trained. Like, no joke. And I'm making it my mission this year for them to be better behaved. They are a lot better from when we got all three of them, especially the twins. But the twins need to go through beginner and additional obedience classes and Collins needs to go through intermediate obedience class since his attitude sucks. I'm hoping though that's just a case of cabin fever or something after being in the house for so long the past few months. But these dogs are going to be better behaved by the time their dad comes home. This is the true challenge of 2016. #soontobedogwhisperer
Lets see how well these challenges go for my this year. I'm hoping for actual success this year!