Hey girl hey!
It's #HashtagHumpday! You know the drill - drop your link below and visit my favorite gal pal/blogger in crime
Laura
while you're at it. Y'all are a real peach :)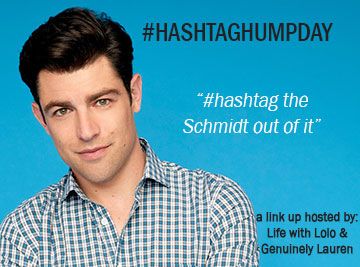 Lets call these rules the 'skinny' because rules sounds way too formal and this is anything but:
- Talk about whatever you like! Just as long as you ad a #hashtag at the end of it because it's #fun
- Link your post up here or with my gal pal
Laura
so we can read all about your life and thoughts #takenoprisoners
- Comment on at least one other post and make friends because that's the point of linkup right? #letsbefriends
- Share it on social media and add #hashtaghumpday #allofthesocialmedia
- Have fun! #hashtageverything
Life has been a little crazy as of late here in the Mullikin household. More like it's just a string of bad luck over and over the past week. Almost to the point that I'm just hoping for some good news to come my way really soon. It would be much appreciated. #imtalkingtoyoumothernature #bringsomesunshinemyway
Lets start with Friday. I'm getting ready for work and the hounds are playing rough as usual on the bed. The next second I see Gordon jumping off the bed and then land hard on the ground yelping the loudest howl I've ever heard. Turns out he got his leg caught in the bed frame while trying to jump off the bed and hurt it real bad and couldn't stand up on it.
So we rushed him to the vet, hoping that he just dislocated it or something not very major. Later in the afternoon they call and say he cracked his femur above his knee cap and his options were either to have surgery to repair it for a hefty cost or amputate it for a much lesser cost.
I'm in tears all day thinking how can we afford either option and with the terrible timing of Blake scheduled to leave in the next few weeks - thinking how can I handle 2 rambunctious puppies and a future gimp for the next 6 months all by myself.
We ended up going with the surgery option to repair his leg - so he gets to keep all 4 even though it didn't really slow him down at all because he was pretty strong hobbling around on 3 legs. We got the Care Credit and ended up covering the entire amount. We had to take him up to Dothan on Monday morning for the surgery and picked him up yesterday and now he's recovering in his new kennel for the next month. They said we have to keep them all separated for at least the next 2 weeks through the hard part of his recovery. He's already trying to walk on it which is extremely surprising.
Luckily, Blake will be here for the hard part of his recovery - with getting his stitches out and needed to be separated from the other 2. We're so incredibly lucky with all of the help we were offered when this kindof came crashing down on us on Friday.
Also, I sent an email to our pet trainer about what to for Collins shitty behavior. They suggested we do a behavior consult to get a feel of where to go in regards to training and reasonings for his behavior. After the initial consult they will recommend if we have to do more sessions, individual training, or another group session. I'm hoping this will help him - especially since I'll be alone very soon and will have to be putting them in daycare a few times the next 6 months.
Basically, all of my money for the next 6 months are going towards my dogs and their impending problems. Good thing I love them so much, right?