Hey girl hey!
It's #HashtagHumpday! You know the drill - drop your link below and visit my favorite gal pal/blogger in crime
Laura
while you're at it. Y'all are a real peach :)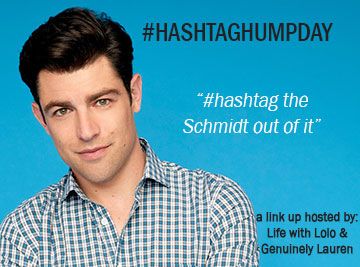 Lets call these rules the 'skinny' because rules sounds way too formal and this is anything but:
- Talk about whatever you like! Just as long as you ad a #hashtag at the end of it because it's #fun
- Link your post up here or with my gal pal
Laura
so we can read all about your life and thoughts #takenoprisoners
- Comment on at least one other post and make friends because that's the point of linkup right? #letsbefriends
- Share it on social media and add #hashtaghumpday #allofthesocialmedia
- Have fun! #hashtageverything
So, I'm a little late to the party here. I went to bed super early last night (much needed) and went into work to do some overtime today and... here we are. Finally sitting and relaxing. All while my dogs are barking their heads off and I question why I got them in the first place #imjustkidding #ilovethembuthatethematthesametime
I would love to post way more often than my little Wednesday Hump day party I've been doing frequently. But, I just don't think it's going to happen. At least not until Blake leaves in a few weeks. Especially now that I get to spend time with him for more hours after work - but that also means going to sleep early. Hope y'all are okay with my bare presence for the time being :) #ipromiseillbebackinfullforce #dontforgetaboutme
Harley is now half way through obedience class and is doing a lot better than Collins ever did. But now, I might have to put Collins back through beginner obedience because he is even more awful than he was when we first got him. He is such a diva, barks at anyone and everyone (including me), and now doesn't know how to react around other dogs. Like, I can't even take him to a dog park because lately his attitude sucks towards other dogs - it's not an aggressive attitude but he's not being very friendly either. Basically I need help because I don't know how to fix it. #illgetoffmysoapboxnow #heresmytinyviolin
We celebrated 2 years of marriage! #herestoalifetimemore
I finished my 3rd race of the year! And I've realized that from here on out it's just going to get hotter and hotter the deeper and deeper I get into the summer #ihatehumidity #andrunning
If you love Instagram, even though they're changing their feed which is pretty bogus, I'm doing a photo challenge #bloginstragramchallenge316 with some fellow bloggers and you should join in for the rest of the month!
We traded in Blake's 2015 Dyna Low Ride for a 2016 Fat Boy S last week and I'm so pumped for the bike! Not only is it super comfortable for me - but the thing hauls like no other. Blake wasn't too happy about trading in his baby, but it's a better bike that's going to hold up over time and the value won't take a major hit like the Dyna did #happywifehappylife #helovesthenewbiketoo
That's it for this weeks news! Tune in next week to see if I'll get some times from my class tonight on how to kick Collins' current attitude - and for other things too :)