Hey girl hey!
It's #HashtagHumpday! You know the drill - drop your link below and visit my favorite gal pal/blogger in crime
Laura
while you're at it. Y'all are a real peach :)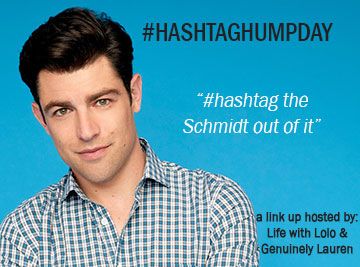 Lets call these rules the 'skinny' because rules sounds way too formal and this is anything but:
- Talk about whatever you like! Just as long as you ad a #hashtag at the end of it because it's #fun
- Link your post up here or with my gal pal
Laura
so we can read all about your life and thoughts #takenoprisoners
- Comment on at least one other post and make friends because that's the point of linkup right? #letsbefriends
- Share it on social media and add #hashtaghumpday #allofthesocialmedia
- Have fun! #hashtageverything
Secretly I feel a little bit better about myself that I'm not the only one that has fallen off the blogging wagon. Like, I think about it all day "Oh, I get to write and post pretty things" and then it gets to when I get home and all I want to do is just sit on the couch and spend time with my husband; especially with him leaving in the next month #sorrynotsorry #illbebetteripromise #maybe
However, my Instagram game is strong. So you can definitely keep up with me there :) Especially this month, I'm hosting a blogging challenge for March! #bloginstagramchallenge316
My poor little Gordon has been walking with a limp the past week and the last few days have been really bad where he's not eating like normal and always laying down. So I'm taking him to the vet this morning and hopefully it's just a sprain or something and won't result in a really expensive vet bill. I also was supposed to have Gordon starting obedience classes today too and since he can barely stand I don't think he would be able to learn everything and that's not fair to him. So, Harley will be taking his place - especially since he's been quite the little devil lately. #mullikinbrotherstails #seewhatididthere
Gordon's totally getting a puppiccino after the vet though #hedeservesit #puppytreats
As I'm typing this up, Collins is going crazy and barking at the garbage truck driving around. And all I just said to him was "Hey, asshole!" and he responsed. So, there's that. #mydogsanassholeandknowsit
Now I'm going to spend the day with my BFFIF Sydni that is back for a visit from Missouri and going to go sip pretty drinks on the harbor #ilovewhereilive #isntitpretty??